Fall / Winter hours: Tuesday-Saturday 11-5pm, Closed Sunday & Mondays
Login
Log in if you have an account
Register
Having an account with us will allow you to check out faster in the future, store multiple addresses, view and track your orders in your account, and more.
Create an account
Regarding Covid-19
20 Mar 2020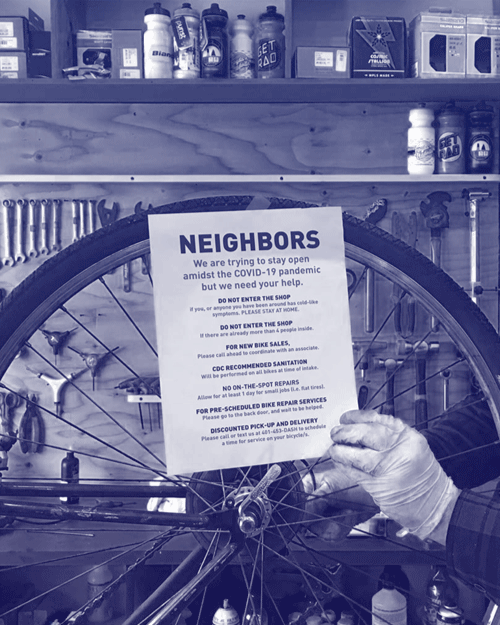 (Español abajo). Thank you for your patience with us as we figure out how best to serve the community during these uncommon times. Please read below, whether you expect to need anything bicycle related during this pandemic, or if you're just curious. If you want to order online for curbside pickup, use checkout code CURBSIDEPICKUP to eliminate shipping fees, and we'll prep your order and let you know when you can pick up your order.
*Whether you're riding to train, or blow off steam, or commuting to work on a bicycle, we encourage you to exercise a little extra caution until things get back to "normal." You can do that by cycling solo, double checking to make sure your bike is in proper working order, including proper tire inflation, before you leave the house, carrying all of the tools and nutritional supplies you'll need to get through your ride, and maybe not going full gas the whole time.*
HI NEIGHBORS!
We are trying to remain open to service the community during the Covid-19 pandemic, but we need your help. We need to request that everyone respect the following temporary rules. 
DO NOT ENTER THE SHOP
If you, or anyone you have been around has cold-like symptoms. Please stay at home.
DO NOT ENTER THE SHOP
We will assist customers one at a time. Please wait outside until someone leaves.
FACEMASKS ARE REQUIRED
RI Executive Order 20-24 says "All employees of customer/client-facing businesses … must wear cloth face coverings … in any entry, exit, and common areas of the business," and customers must also wear a face covering (including scarves, bandanas and other homemade and non-factory-made masks), while here.
FOR NEW BIKE SALES
Please call ahead to coordinate with an associate.
CDC RECOMMENDED SANITATION
Procedures will be performed on all bikes at time of intake, and again before return.
WE ARE LIMITING ON-THE-SPOT REPAIRS
Please allow for at least 1 day for small jobs—i.e. flat tires.
NO MORE BORROWING SHOP TOOLS
We're sorry, it's just not okay right now. Don't take it personally.
FOR PRE-SCHEDULED BIKE REPAIR SERVICES
Please go to the back door, and wait to be helped.
WE ARE OFFERING DISCOUNTED PICK-UP AND DELIVERY
Please call or text us at 401-453-DASH for details, and to schedule a time for service on your bicycles. Some restrictions apply.
NO, WE ARE NOT OVERREACTING
20% of hospitalizations for Covid-19 are people between the ages of 20-44. With the serious risks to people who are more vulnerable, it is our responsibility to the community to do our part to stop the spread. We also strongly recommend re-sanitizing your bicycles once they are back in your hands.
———
OYE VECINOS!
Estamos tratando de permanecer abiertos en medio de la pandemia de Covid-19, pero necesitamos su ayuda.
NO ENTRE EN LA TIENDA
Ayudaremos a los clientes uno a la vez. Por favor, espere afuera hasta que alguien se vaya.
NO ENTRE EN LA TIENDA
Si tiene o ha estado cerca de alguien que tiene síntomas similares al resfriado. Por favor quédate en casa.
SE REQUIEREN MÁSCARAS
RI Orden Ejecutiva 20-24 dice "Todos los empleados de negocios orientados al cliente … ellos deben usar revestimientos de tela … en cualquier entrada, salida y áreas comunes del negocio," asimismo, los clientes también deben usar una cubierta facial (incluyendo bufandas, pañuelos y otras máscaras caseras y no hechas en fábrica), mientras aqui.
PARA VENTAS DE BICICLETAS NUEVAS
Por favor llame y coordine con un asociado.
SANEAMIENTO RECOMENDADO POR LOS CDC
Se realizará en todas las bicicletas al momento de la admisión.
SIN REPARACIONES MIENTRAS ESPERAS
Permita al menos 1 día para reparaciones pequeños—es decir, pinchazos.
PARA SERVICIOS DE REPARACIÓN PRE-PROGRAMADOS
Ve a la puerta de atrás y espera a que te ayuden.
OPCIONES DESCUENTO DE ENTREGA y RECOGIDA
Comuníquese con nosotros en línea o por teléfono (401-453-DASH) para obtener opciones descuentos.
NO ESTAMOS EXAGERANDO
20% de las hospitalizaciones por Covid-19 son personas entre las edades de 20-44. Con los graves riesgos para las personas que son más vulnerables, es nuestro responsabilidad con la comunidad para hacer nuestra parte para detener la propagación. También recomendamos volver a desinfectar su bicicleta una vez que le sean devueltas.
Leave a comment