Fall / Winter hours: Tuesday-Saturday 11-5pm, Closed Sunday & Mondays
Login
Log in if you have an account
Register
Having an account with us will allow you to check out faster in the future, store multiple addresses, view and track your orders in your account, and more.
Create an account
Holiday Gift Guide
10 Nov 2023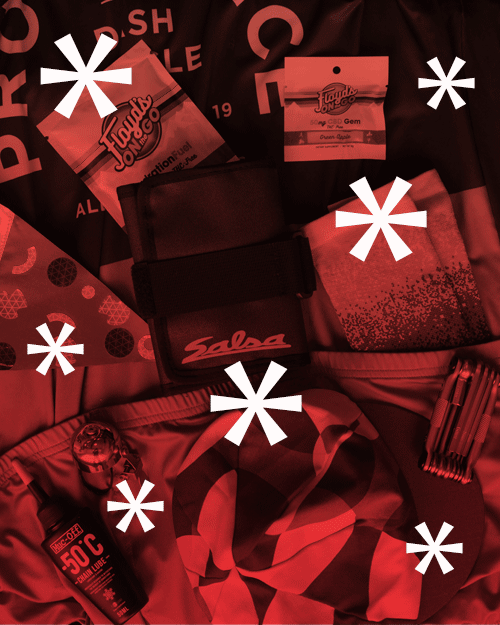 We've added all kinds of good stuff to get ready for the season of gifting, and did our best to come up with some easy recommendations for gifts and stocking stuffers for active and casual cyclists, alike. Plus, we've come up with some special offers to help inspire your gifting needs, or just to treat yourself. *If you prefer the safe social distancing method of online shopping, use code CURBSIDEPICKUP at checkout, and we'll package your order and have it ready for pickup with minimal contact.
SELF CARE & NUTRITION


Skratch Labs
On-bike nutrition is crucial for riders of any level, and may be the ultimate stocking stuffer. We stock an assortment of delicious and healthy hydration and nutrition aids for sport and recovery, from UnTapped, Skratch Labs, and more. Even more options are available in-store, so come say hi!
Water Bottles
Health professionals recommend that we should be drinking about a hundred ounces of water a day, fitness activities notwithstanding. One way to make sure you're staying hydrated for optimum health is to start carrying a water bottle around even when you're off the bike. We have an assortment of bottles made with Purist technology that will help to keep your water tasting fresh.
GEARING UP, ON & OFF THE BIKE


Gloves
Most years, we wear some variety of gloves from October to April, or even longer if we're out riding in the early morning, or at dusk. DeFeet makes excellent lightweight gloves for riding in temperatures as low as forty degrees (or cooler if you're just out around town). Available in hi-vis colors or a merino blend, and as with all DeFeet products, the Duraglove ET is made in the USA using recycled water bottles.
Socks
The gold standard in cycling socks are made in the USA from recycled water bottles. Solid colors to match any bike or kit you've got, or just add a pop of color to your work outfit. Buy any pair of socks online or in store, and get a free pair of our choice in your size, while supplies last. 
Sunglasses
The sun is always lower in the sky during the winter months, which makes for harsher sunlight at any time of day. We've got affordable eyewear from Tifosi Optics and Goodr, to protect your eyes without breaking the bank. So, take some advice from ZZ Top, and go get yourself some cheap sunglasses. 
Headwear
 You can never have too many cycling caps. We've got shop caps with a simple "dash" pattern, designed in Providence and manufactured in the USA. We've also got traditional style cycling caps from Still Life, All-City, and more. We've also got Belgian-style wool cycling caps, with a built-in ear flap, from 45N, and DeFeet's winter knit hats made from recycled water bottles, also made in the USA.
Cycling Jerseys
Cycling jerseys are the pinnacle of performance and function. The back pockets keep all of your essentials out of the way and always within reach. And, all of our Dash cycling jerseys and tech tees are now 50% off, no coupon necessary. Gift one to the cyclist in your life, or treat yourself to a the best deal you're likely to find on a crucial piece of cycling kit.
BIKE MAINTENANCE & TOOLS


Bike Wash
Some folks always clean their bike after every long ride, but winter road conditions make that kind of maintenance more critical for all of us. All kinds of salt and grime will build up on your bike frame, and parts, on even the shortest rides, and it never hurts to make sure your bike and components will remain in good condition, longer.
Chain Cleaning Set
It's an easy detail to overlook, but a clean chain is central to the health of your drivetrain. Whether you're riding in the city or on the trails, your chain is going to pick up muck and grime which will wear out your drivetrain more quickly. Keep your chain, and gears, happy with the X-3 Dirty Chain Machine from Muc-Off, designed to work with road, mountain, and commuter bikes.
Chain Lube
A frequently lubricated chain is a happy chain, and will perform better and wear more slowly. Keep entropy at bay with drivetrain lubricants from Finish Line, Muc-Off, and Tri-Flow. We also stock a specially formulated chain lube for e-bikes.
Multi-Tools
We just restocked our favorite precision engineered 10 and 19 piece multi-tools from Crank Brothers, online, plus we've got a great selection of tools from Park Tool available in-store.
On-Bike Storage
Keep your tools, spare tubes, patch kits, nutrition, car keys, etc safe and secure while you're out on a ride with a saddle bag, or tool roll designed to hold tight under your saddle rails with a clean minimal look. Prefer something more rigid? Check out the tool keg, a 16oz hard plastic container which fits into a standard bottle cage. Speaking of bottle cages, we know plenty of people who like to carry bottles that are larger than the average cycling bidon, or even a 750ml of cider. And for those folks, we have the Looney Bin expandable bottle cage, from Arundel.
KEEP TRAINING


Indoor Trainers
A lot of us are going to be spending more time inside this winter, and you can't stop moving just because the world isn't cooperating. Sometimes you just need to ride inside. All indoor trainers are 50% off, in-store only.
Shoes
Dash stocks a variety of cycling shoes from Specialized, with an emphasis on the practical MTB-style shoes which are designed with walking short distances off the bike. Please call or visit the shop for the most up-to-date. selection of sizes and colors.
Helmets
A quality helmet will help keep that noggin safe when the unexpected happens. We stock helmets from Specialized and Bern to meet the needs of everyone on the road and trails from bike couriers to gravel grinders to casual cruisers to road racers. Treat yourself by treating yourself right.
ACCESSORIZE OFTEN


Lights
To see or not to see, that is the question. Once you add lights to your bike, you'll never want to go without. A basic set of lights goes a long way to alert drivers to your presence on the roads and keep you safe, and flashing mode. If there's a chance you're going to find yourself riding on roads that aren't well lit, or if you're out on the trails after dark, the brightest headlight you can find is the way to go.   
Safety Pizza
The world's most delicious safety flag is Safety Pizza. This hi-vis orange flag is shaped like a perfect slice of pizza, with reflective safety yellow crust and a sheet of reflective pepperoni, olive, and mushroom stickers.
Bells
There's a debate about whether Spurcycle or Crane bells make the nicest sound, but the sound of a bell is always a nice way to say hello when passing another rider. And the ring of a bell is alway more pleasant call to attention than shouting "on your left" as you overtake another rider on the bike path, or out on your favorite doubletrack trails.
Locking Skewers
Protect your investment by keeping honest people honest, as they say. Locking skewers are just the right amount of deterrent for those of us who need to leave our bikes locked outside while we're at work. 
NAVIGATION & RIDE TRACKING


Bike Computers
Get a handle on your training data with Garmin's Edge Explore 2. This compact wireless bike computer is an affordable alternative to the expensive GPS computers on the market, and it's packed with features that give you a reading on basic data like distance, speed, elapsed time, and more, so you don't have to run your phone battery down by running Strava on a long ride in rural areas with limited reception (we've been there, and it ain't much fun).
Phone Holders
Phones have come a long way as GPS navigation devices. And with apps like RideSpot, Strava, and RideWithGPS, it's now easier than ever to open a route and just follow the cues. We stock a variety of bar-mounted smartphone holders from Delta, no matter which mobile device you're loyal to.
Leave a comment